Eiffel Tower Bezel Card
A bezel makes an unique card accent.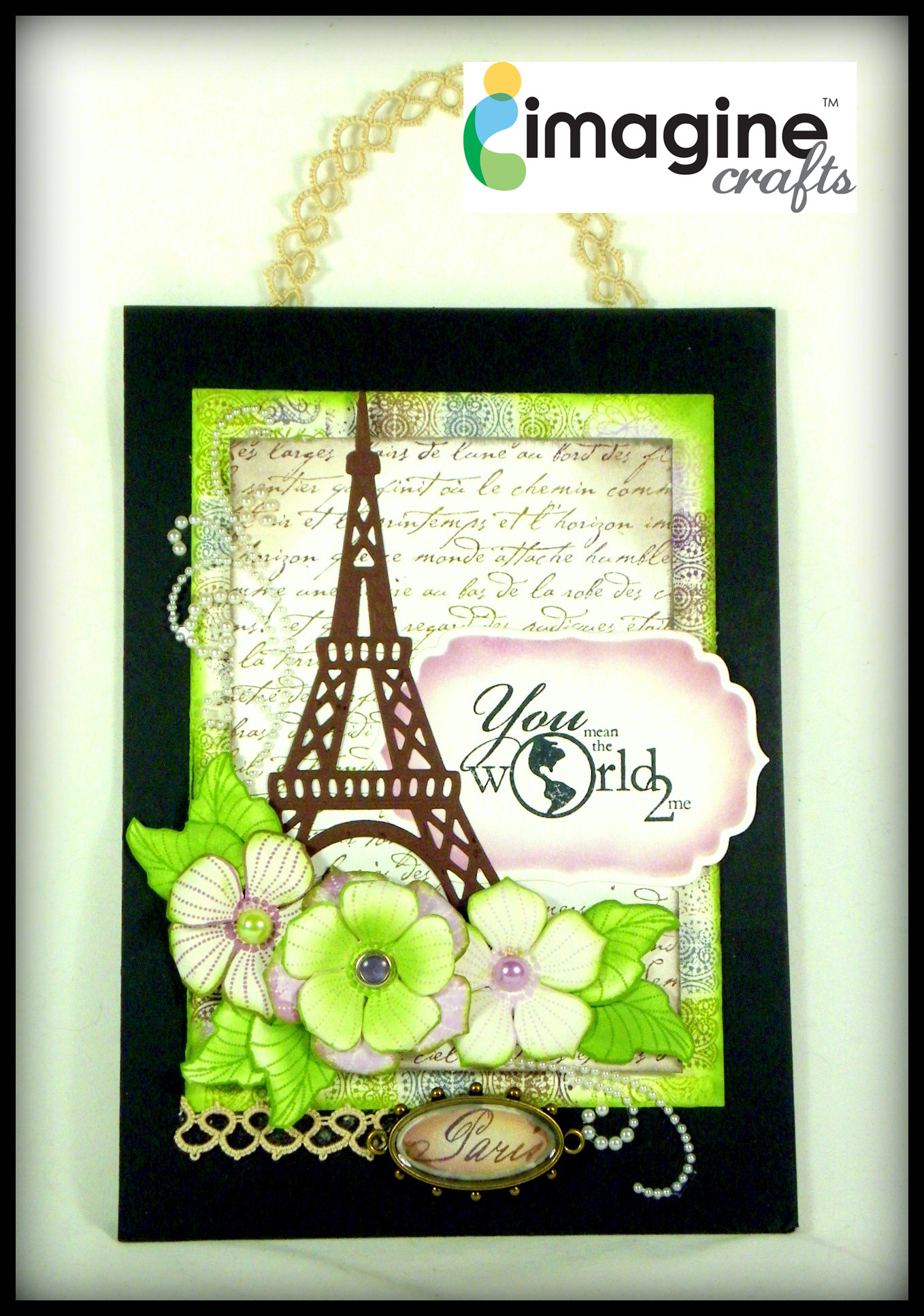 Stamp six (6) or so flowers from the Petal Party stamp set onto white cardstock using Lulu Lavender, Sweet Plum and the leaves in Bamboo Leaves. Stamp both the large and small flowers. Cut around each flower. Sponge the edges of the flowers to soften the crisp white edges.

Stamp both sentiments in the Memento Dew Drop in Espresso Truffle. Cut and emboss the large sentiment using the Spellbinders Labels Four Nestabilities and the "Paris" sentiment using the Spellbinders Ovals One Media Mixáge Die. Use the die as a stencil before removing the card and sponge around the inside using Lulu Lavender and a Sponge Dauber.

Stamp a Script Background onto whitecard stock using Espresso Truffle and sponge around the edges using Grey Flannel. Distress the edges using a scissor blade or distressing tool.

Using the Vineyard Kaleidacolor Inkpad and the lace border from the Penny Black lace delight stamp set, stamp around the edges of the white card. NOTE: The scalloped edge is facing towards the centre.

Layer as follows: add the Labels Four sentiment onto the Script Background layer, on the centre of the right hand side (as shown in the photo below) attach the Eiffel Tower die using glue.

Curl the flowers using the end of a paintbrush, layering one large and smaller one securing using a brad.

Attach them using foam tape to the layered card. Add pearls to the centre of the outer flowers.

Finish the layers by adding some Want2Scrap Flourishes and attaching them to thick black cardstock. Glue the sentiment onto the bezel. Adhere the finished bezel using strong double sided tape.