Holiday Floral Card
Ink a die cut flower for a beautiful center to a holiday card.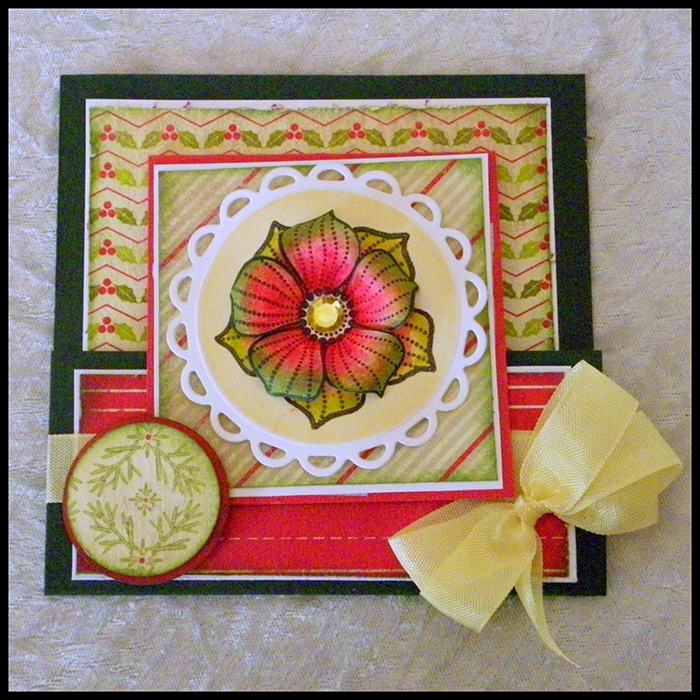 Cut green card base to 4½" x 6½", score at 4½"

Cut patterned paper to 4¼" x 4¼", the second piece 4¼" x 1¾".

Cut a third square of patterned paper to 2¾" x 2¾".

Sponge around the edges of all patterned papers using Memento Bamboo Leaves.

Adhere patterned paper to card base using double sided tape.

Cut red the card to 3" x 6"; score at 3".

Adhere the sponged patterned paper.

Adhere to the center of the card base using double sided tape on the back as shown and tape it to the inside of the card. Make sure the fold of the smaller flap is facing down

Cut/emboss one Lacey Circles #3 Dies.

Use the die as a stencil and sponge inside of the Lacey Circle using Delicata Golden Glitz using a Jumbo Dauber.

Stamp one flower from the Petal Party stamp set in the center of the Lacey Circle and one on white card using Versafine Onyx Black.

Cut out the flower on card and color using Memento Markers in Pear Tart, Bamboo Leaves, Love Letter.

Curl the leaves under and adhere to the center of the second flower using liquid adhesive.

Add a large bling to the center.

Adhere the Lacey Circles to the front panel.

Cut one small circle in patterned paper and one the next size up in red card.

Sponge around the edges of the smaller circle.

Attach the smaller circle to the larger one using foam squares.

Attach foam squares to the lower portion of the circle and adhere to the lower corner of the card slightly over the edge of the smaller flap to keep it closed.

Attach seam binding around the lower flap of the card, securing with double sided tape.

Attach a double seam binding bow to the right side of the card as shown.