Pirate Chest
Arrrgh! Decorate a wooden chest for the little matey in your life.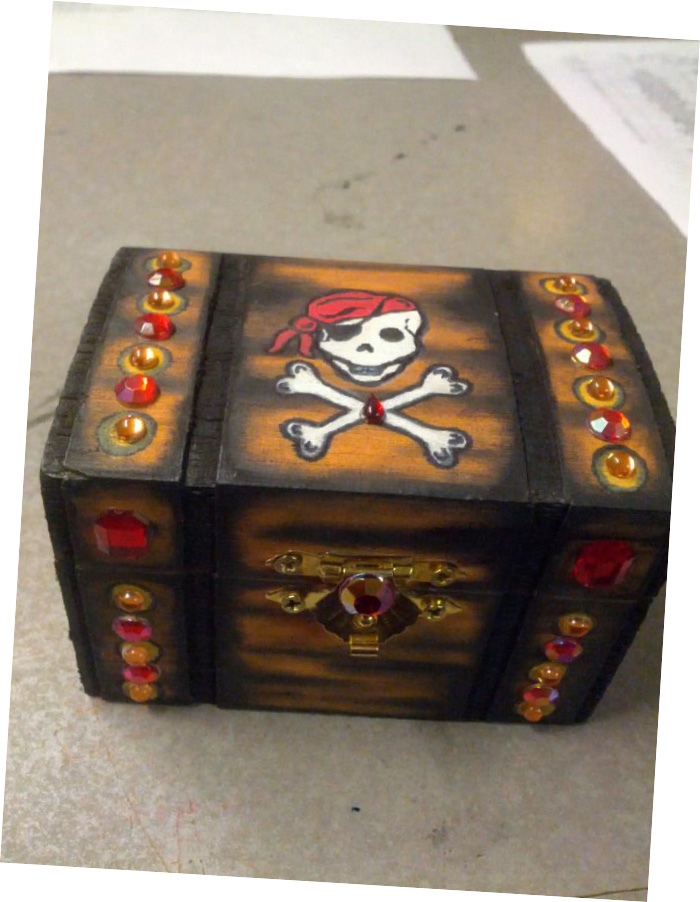 Color entire pirates chest using VersaMagic in pumpkin spice. Create wood effect by using a bullet tip Fantastix brush to draw horizontal lines with VersaMagic in Gingerbread. Go over lines to blend them with Fantastix brush. Add a little VersaMagic in Midnight Black and blend the color out again. Heat set as you go to make sure the color won't rub off.

Using a bullet tip Fantastix brush, fill in the grooves that run diagonal along the top and the front of pirate chest with VersaMagic in Midnight Black.

Using a bullet tip Fantastix brush, draw a skull and cross bones on the top of box in VersaMagic Cotton White. Add a pirate bandanna with VersaMagic Red Magic.

Outline and add detail to the skull face and cross bones with Memento Marker.

Create rivets along the top and front of pirate chest using a piece of paper with a hole punched in it as a stencil. Using a brush tip Fantastix brush, fill in stencil with VersaMagic in Mango Madness.

Use the Memento Marker to outline the rivets.

Bling up the pirate's chest by gluing rhinestones all over using the Essential Glue Pad.