All Your Eggs in One Basket - Papercraft for Easter
For a non-Easter theme, try filling your "basket" with fruit or flowers.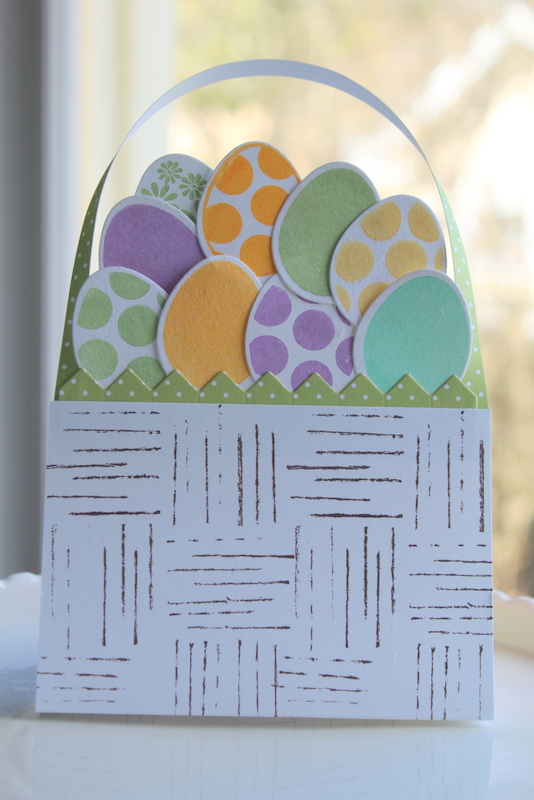 Cut cardstock into the following sized pieces: white -- 6.5" x 4.75" and 5.5" x 4"
green -- 4.75" x .75" and 10.5" x .25"

Trim a piece of the Tack 'n' Peel
 to the size of your acrylic block. Cut toothpicks in 1/2 and line them up on the block to create the pattern shown in the final picture.

Ink toothpick stamp with VersaColor Pinecone & stamp the 6.5 x 4.75" white cardstock until pattern is full. Let dry, fold in half. This is the "envelope" for your card. Add a 4.75" x .75" piece of green paper to the top edge of one side -- cut a jagged edge to give the idea of grass.

Using the VersaMagic spring colors, stamp the various egg designs on white cardstock.

Using the matching die, cut out the eggs.

To add some sparkle, spritz the solid eggs with Shimmer Spritz in Frost and the polka dot eggs with Shimmer Spritz in Sparkle.

Assemble the eggs in a group pattern and adhere to the top of the 5.5" x 4" white cardstock.

Add sentiment to lower half of card. It will be hidden in the "basket."


Assemble: using a 10.5" strip of green cardstock, place a drop of glue on each end of strip on each side. Sandwich between the top corner edges of the basket to attach the handle and seal the basket edges closed.