Don't you just love red, and with the month of love we are celebrating raspberry red with loads of repetition. I created this shimmering layout using tons of red ink and then added a few splashes of other color for some fun contrast.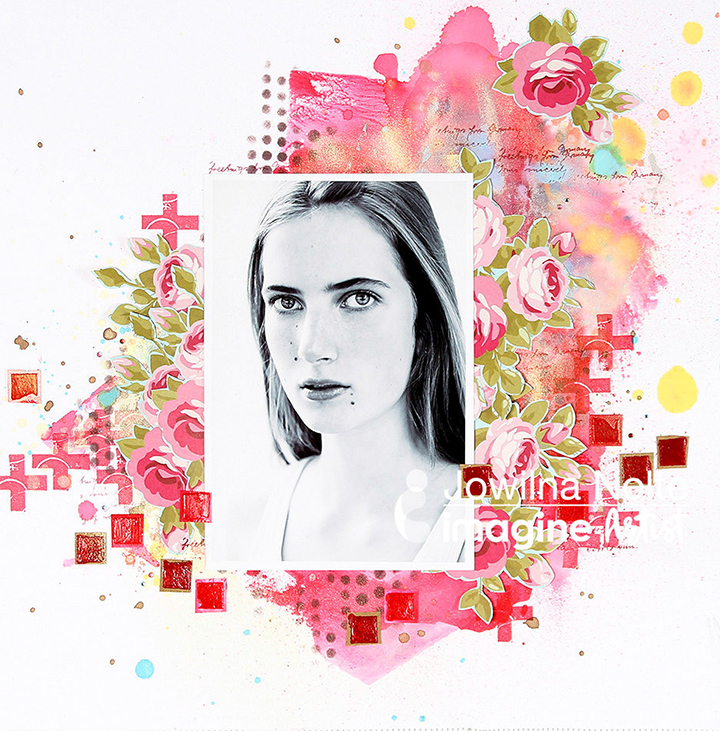 Step 1
Add a small amount of Creative Shimmer onto your Craft Mat. Add a few drops of dye inkers to the medium. I added 2 colors of red.

Step 2
Mix the inker into the paste really well using your palette knife until the paste is fully colored.


Step 3
Apply the colored paste through a stencil onto craft paper and leave to dry. The creative medium dries really fast and has a stunning shimmer.

Step 4
Use the same inkers to color a piece of smooth white cardstock. Drop a few drops onto the cardstock and mist with water.

Step 5
Apply some of the colored paste onto the colored cardstock using the same square stencil.


Step 6
Color a sheet of white cardstock with the same red inkers. Once dry stamp some images onto the background using VersaFine Clair Glamorous.

Step 7
Add random color splats using Fireworks sprays to add color to the background. Cut out flowers from patterned papers and adhere them. Then stamp some random text in the background using VersaFine Clair.


Step 8
Use VersaFine Clair Pinecone and stencil some dots onto the background. Then adhere your photo. Cut stenciled squares with a beautiful shimmer from the papers and adhere to the layout. Add diamanté to finish off.