I used several techniques and many fun products to create this sweet elephant card. Let me show you how.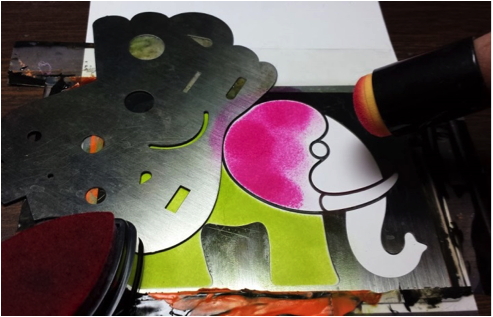 I started off by taping my Elephant stencil from Dreamweaver Stencils on to a piece of Mixed Media Cardstock. You'll notice that my tape is messy. I try to reuse my tape because it is less likely to tear my paper then. Once the stencil is secure, I take Pear Tart Memento, a sponge dauber, and my Picasso Stencil/Shield tool (also from Dreamweaver) and I begin to apply my color to the body of the elephant. Next I moved on to using Rose Bud Memento ink for the ear. You can see how I am using the Picasso tool to mask off and protect the areas I don't want colored at the time.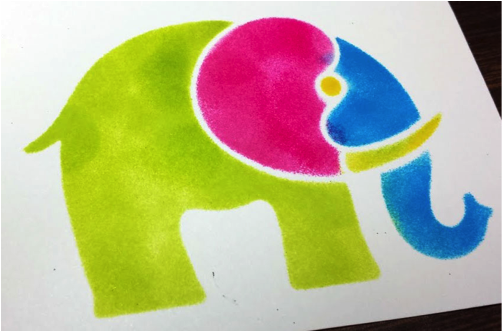 Here is the finished elephant. I used Dandelion for the tusk and eye, and Bahama Blue for the trunk.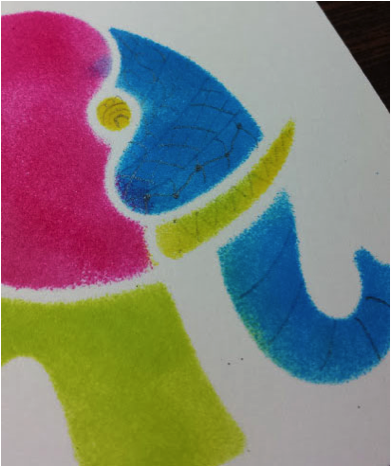 To add some fun detail, I used a pencil to sketch in some doodles. I am no Zen tangler, so my designs were kept simple. You can see my doodles on the trunk in the photo above. Once I was happy with my line drawings, I went over them with the Black irRESISTables Pico Embellisher. I LOVE this stuff! What a fun way to doodle!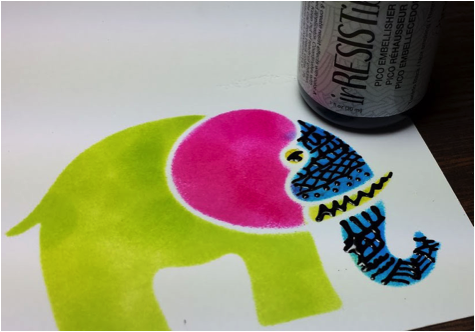 I doodled over the entire elephant, and set it aside to dry. Which, by the way, doesn't take long at all!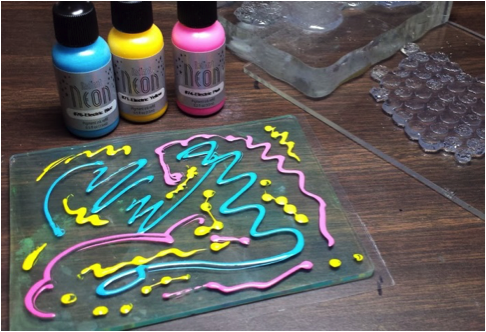 ​Next I started to work on my background. I used a technique called monoprinting. I used 3 Radiant Neon inkers to create it. I squirted the 3 colors on to a Creative Palette from Stampendous.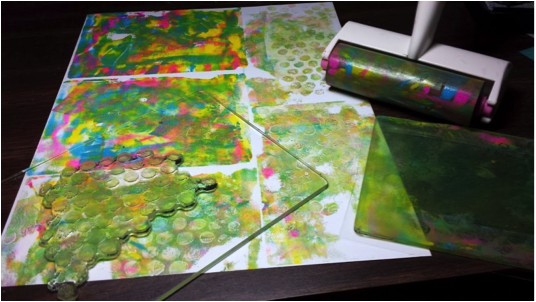 Then, using my brayer, I rolled and smooshed (that's a technical term) the colors around on the palette. I then stamped the palette on to a sheet of Mixed Media Paper. I smooshed the ink around again, and created another print. I also stamped one of the stamps that comes with the Creative Palette into some of my prints, as you can see in the photo above. The version I used for my card has the bubble wrap-like stamp in it, and it was one of my later prints, so the colors are not as vibrant. I let this dry off to the side, and then I trimmed it out.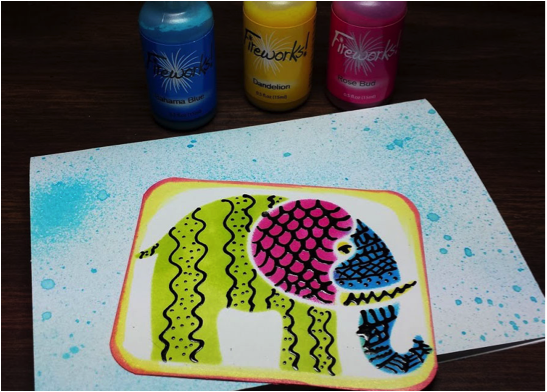 Meanwhile, I broke out the Fireworks! I spritzed my card base with Bahama Blue. I unscrewed the sprayer for the Dandelion and the Rose Bud, and applied them with a brush around my elephant, as you can see above. I love the shimmer that the Fireworks! have.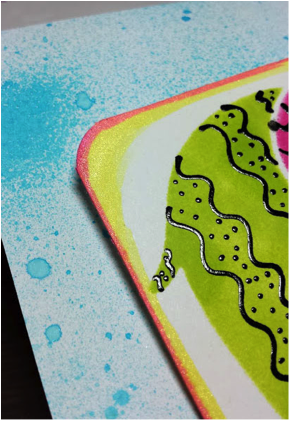 ​Here, you can see the raised texture of the irRESISTables and the shimmer from the Fireworks!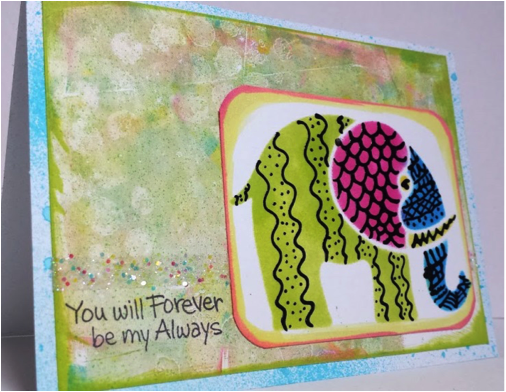 Next, I stamped my sentiment (from Stampendous' Love Always set) in Tuxedo Black Memento. I also placed a strip of Tear It! across the monoprinted piece, just above my sentiment, and sprinkled Multi Crystal Glitter Mix (from Stampendous) on it. Last, I glued all of the pieces down.