One of my favorite holiday traditions is the choosing of the Christmas tree! We could take the easy route and go to a lot and select a pre-cut tree but it so much more fun to traipse around acres of trees and find the "perfect" tree. Well, I think so anyway, don't ask my husband.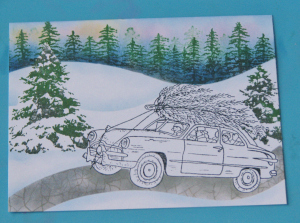 Directions:
1 . Stamp the central image on a white card panel using Tuxedo Black Memento Ink; stamp the image a second time on copy weight paper.
2. Trim the copy weight paper image and position it over the original stamped image with washi tape.
3. Hand or die cut two waves in a piece of copy weight paper approximately 3/4″ apart. Carefully cut out the wave.
4. The wave will now become the road.
5. Stamp the crackle texture stamp over the opening using Gray Flannel; sponge London Fog randomly over the open area.
6. Remove the large wave mask and position the cut away portion of the wave over the freshly minted road.
7. Stamp a large and small pine tree using a combination of Cottage Ivy and Bamboo Leaves ink. Stamp both stamps on copy weight paper to create masks for each of those images.
8. Cut or tear a "hill mask and adhere it to the upper third of the card panel.
9. Stamp the row of pine image using Northern Pine and Cottage Ivy inks.
10. Sponge Nautical Blue ink along the bottom of the tree line.
11. Next sponge Summer Sky along the top edge of the panel; Dandelion and Angel Pink in the mid range of the sky.
12. Move the mask down to create a second hill by lightly sponging Summer Sky along the edge of the mask.
13. Remove all of the masks.
14. Color the car image using Memento Dual Tip Markers.
15. For a finishing touch apply Sparkle irRESISTible Pico Embellisher randomly in the snow-y areas and on the pine trees.