Friendly Frank Treat Holder
Give the little monsters in your life an extra treat with this Frankenstein candy holder.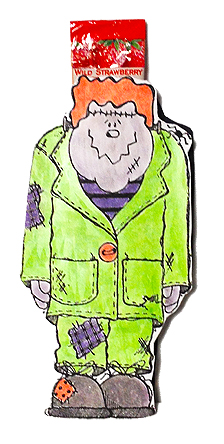 Stamp Friendly Frank onto white cardstock with VersaFine Onyx Black. Quickly heat emboss with Clear Embossing Powder.

Fussy-cut around the image.

Trace around the outside of the image for the back of the holder with a pencil. Fussy-cut along traced lines.

Cut two pieces of black cardstock to 1-3/4 x 3-1/4 inches. Measure on the long side, 1/4 inch from each edge and score. Fold on score lines to create black channel strips. Set aside.

Using finished sample as a guide, color in Friendly Frank using Brilliance Peralescent Lime and Orange, along with VersaFine Habanero and Imperial Purple inkpads. Apply color from inkpads with Brushstix as desired. Set aside to dry.

Position the packet of drink mix (or other treat) onto the black fussy-cut piece of cardstock (the back of the treat holder) to determine where the black channel strips should be placed and adhere to the cardstock.

Remove the drink mix packet and apply adhesive to the other side of the folded channels; affix the front of Friendly Frank to the channel strips and re-insert the drink mix packet!