Freedom Starburst Medallion
Stick these festive, double-sided starburst medallions in apples lining your 4th of July picnic table, add one to a flower bouquet, or omit the stick and hang them from ribbons to add a patriotic flare to your holiday.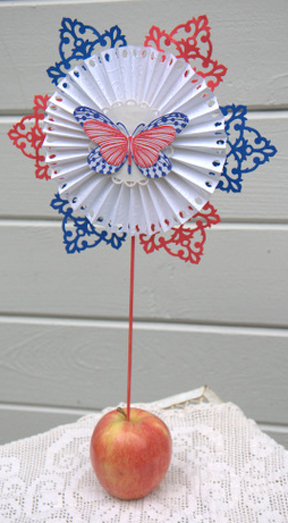 Stamp and cut out 4 each dotted (blue) and striped (red) butterflies. Cut off antennae except on the dotted (blue) butterflies.

Assemble 2 sets of butterflies by creasing down the length of the body and then stacking and gluing two red on top of two blue.

Color bamboo skewer with VersaCraft Poppy Red, allow to dry.

Die cut 3 each blue and red Damask Motifs. Die cut 2 each 2 ¾" and 4 ¼" Lacey Circles, or substitute with paper doilies.

From 8 ½" X 11" white embossed cardstock, cut three 2 ½" X 11" strips.

Score ½" from the short end and continue scoring every ½" along entire length of all 3 strips. Fan fold on scores (mountain, valley) then punch a hole along the edge between each fold.

Glue all 3 fan-folded strips together at short ends to make a ring. On both sides add glue along the un-punched edge. Lay flat on table and press and hold together to form medallion. Tip: place a glass on the center to hold it down while it dries.

Attach small lacey circle or doily to the center of the embossed side of the medallion and large lacey circle or doily to the center of the back side.

Glue Damask Motifs to the edge of the circle with equal spacing. Alternate between blue and red pieces, allowing the maximum to be visible.

Sandwich skewer between two large circles by placing cut end of skewer on top of large circle, between two motifs and 1" from circle edge and add glue, then glue second large circle or doily on top of skewer and motifs.

Glue small lacey circle or doily in center on top of large one and motifs.|

Glue one set of butterflies to center of each side of medallion.

Tie ribbons at top of skewer.