Is there a fabulous lady in your life who qualifies as a Diva? I have one in mind for this gift journal as her long-awaited graduation gift is a trip to Paris where I'm sure she'll be writing notes, saving ephemera and doing a little sketching in famous museums. If you have an artistic Diva in your circle of friends this is a one of a kind handmade gift she can treasure.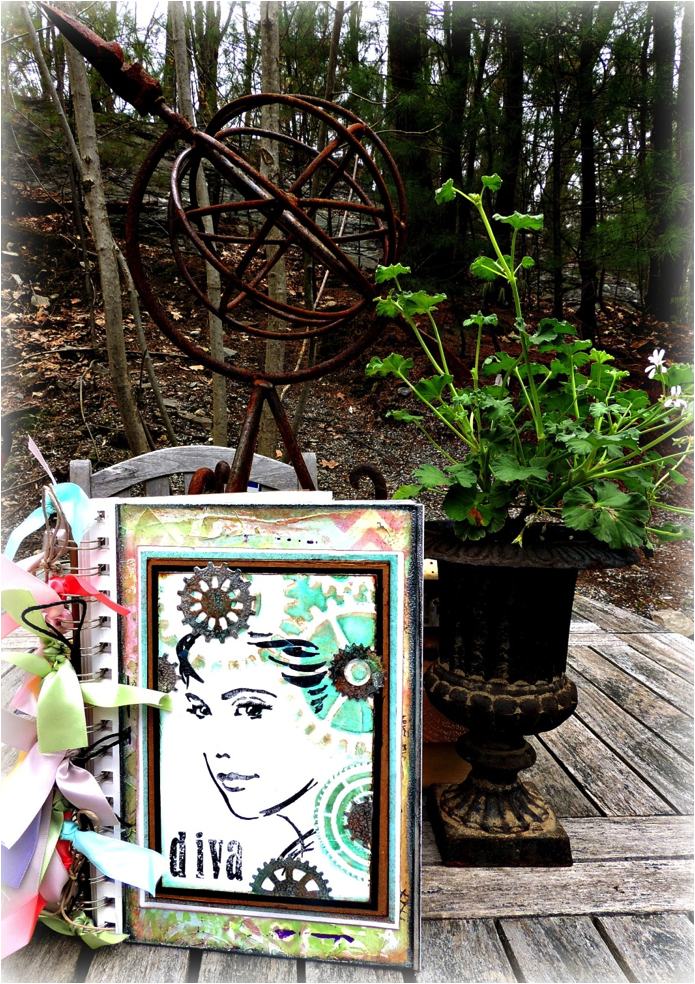 Directions:
1. Create a Master board.
2. Cut a piece of the Master board to fit on the cover of a purchased art journal, emboss edges.
3. Stamp face and word on cardstock, apply Cretive Medium through a stencil, when dry attach to mats.
4. Remove the journal cover and adhere the Master board panel to the first page in the book and another panel on the back side of the book.
5. Decorate the front and back panels and tie random ribbons onto the wire bindings.
Back Cover
Front Cover
6. Die cut cogs, apply Delicata Metallic inks, Cactus Green StazOn ink and heat emboss with Silver Embossing Powder.
7. Embellish the cover with the embossed cogs.
8. Write a private message inside the journal and attach a lovely pen, if desired.