For International Day of Peace, I wanted to create something airy, with a positive mood subtending this sad situation. There is confusion but also hope everywhere.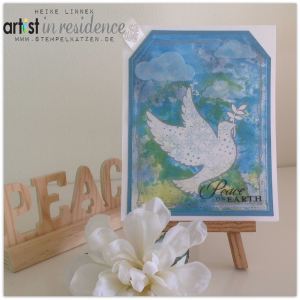 Directions:
1. Die cut a piece of white cardstock. Stamp the dove with VersaMark Watermark stamp pad, add white Embossing Powder and heat set.
2. Dab the Memento ink pad onto the craft mat, dilute the color with Ink Potion No. 9 spray (water works for this too). Dip an acrylic block into the color and transfer it to the cardstock. This procedure is known as smoosh technique, combined with the resist technique (wiping the color away from embossed sections). Continue smooshing until you like the result. Carefully clean the dove using a tissue or a baby wipe.
3. Die cut a piece of transparent foil with the same die as before. Layer it over the cardstock and fix it with some masking tape.
4. Position the stencil on top of foil and also afix it with masking tape. Apply Creative Medium Iridescent Blue. Carefully remove the stencil.
5. Stamp sentiment onto foil with StazOn Jet Black. Let everything dry completely.
6. Cut blue cardstock 1/8" inch taller each side as the original is to get a mat. Adhere the original onto the mat and fuzzy cut the edges.
7. The ground card measures are 1/8" inch taller on each side than the blue mat is when folded in half. Fold a white ribbon and glue it together with Tear It! Tape. Punch out a little Heard. Again use Tear It! Tape to fix the heart onto the ribbon and the ribbon onto the ground card.
8. At last, use Tear It! Tape to adhere the foil. Hide the tape behind the clouds, the Tape on this areas will be sticky enough to keep the foil in positon onto the finished card.