For those of us in the U.S. the Labor Day weekend is a marker as the end of summer. Most people do not have to work the following Monday so it is a time when barbeques and pool parties abound! While we might be sad to see summer fading away there is the excitement of kids going back to school or just the change in the seasons. If you are fortunate enough to be invited to a party of some sort you'll probably want to bring a small hostess gift. This little bag fits the bill! You can tuck small gifts inside like candles, candy, or how about some unique hot sauces to go with that steak? The real kicker is that you can make it in a matter of minutes.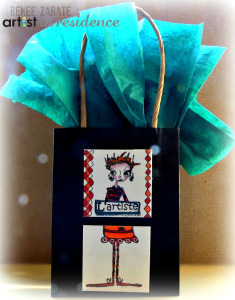 Directions:
Step one: Choose the size of bag you need for your gift. Twinchies are perfect to use on a smaller gift bag. Stamp images on two Twinchies, set aside.
Step two: Color in the images with markers and ink the edges with an ink pad. Draw patterns along the side of one or more of the Twinchies.
Step 3: Using a popped up foam tape, attach the Twinchies to the gift bag.
Step 4: Insert gift and add a pop of color with bright tissue paper.