I found this nifty pair of canisters at a flea market recently and I thought it would be fun to kick it up a notch and give them a little French flair.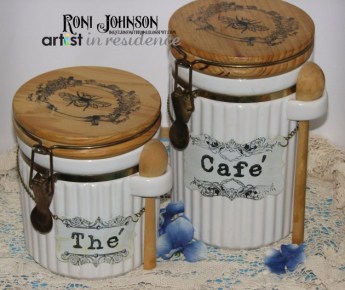 Directions:
1. Wash and dry the canisters completely.
2. Die-cut desired size label from an ATC size piece of SHEET Metal (blue side up). Depending on the die used it may or may not cut completely through but it will cut it enough that you should be able to easily remove the excess metal.
3. Sand the back side of the die-cut label to remove any sharp edges.
4. Flip the label over and remove the protective blue film.
5. Shake the StazOn Cotton White Opaque Inker bottle to ensure it's mixed, then squirt a bit of the ink onto the metal label and spread around using an Ink Blusher until the entire label has been covered.
6. Apply a thin layer of Clear StazOn GlazOn sealant.
7. Stamp decorative flourishes with Ivory Black Opaque StazOn ink. Let dry and apply a layer of Clear GlazOn.
8. Stamp text again using Ivory Black Opaque StazOn ink.
9. Apply the final layer of GlazOn Clear for a fresh clean look or Antique GlazOn for a warm vintage feel.
10. Bend the metal label to where it fits the contour of the canister.
11. Punch two holes in the upper corners of each label then add necessary findings and chain which will enable you to hang the labels from the canisters.
12. For an extra bit of French flair stamp a fancy flourish and bee on the canister lid using Opaque Ivory Black StazOn Ink. Cover with a thin layer of GlazOn.