In this project I show you how easy it is to create an individual place mat. I love the results with Memento Luxe Ink Pads and Fabrico Marker. Stamping and drawing on fabric is just a little bit different to stamping on cardstock.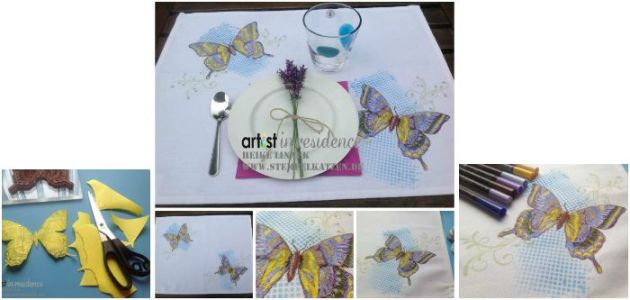 Directions:
1. Make a stamping mask: stamp the motive on a piece of masking paper and fuzzy cut it just a little bit smaller than the original.
2. Stamp the swallowtail twice. I used a Memento Luxe Ink Pad in Rich Cocoa, because I didn't wanted to get dark outlines.
3. Apply the mask and stamp the swirls with Memento Luxe Pear Tart.
4. Leave the mask and stencil some pattern using an Ink Sweeper and Memento Luxe Bahama Blue. Remove the mask.
5. Color the swallowtails with Fabrico Marker.
6. Set highlights applying All-Purpose Ink Platinum with a Fantastix.
7. Let everything dry about 24 hours. Then carefully fix the color by ironing without steam between a pressing cloth or a newspaper.