Monoprinting makes a lot of fun and offers a wide variety of options to create several layers on a project. Experimenting with this technique using only my craft mat, I found out that Radiant Neon Amplify! is the perfect color to add new dimension and feel to the surface.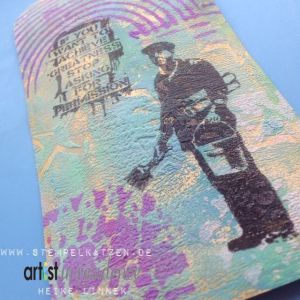 1. Apply Delicata Golden Glitz to the craft mat and take a first imprint.
2. Don't clean the mat. Add Radiant Neon Amplify! White and Electric Blue and disperse it with a brayer.
3. Work quickly. Create structure pressing a stencil into the wet color.
4. Take an imprint for the second layer. Use a brayer to get enough pressure.
5. Apply Radiant Neon Electric Green. Draw a pattern with Doodlestix. Take the next imprint for the third layer.
6. Stencil the next layer with a sponge dauber using Radiant Neon White.
7. Time to stamp.
8. Now a darker color, Radiant Neon Electric Purple, can be stenciled exactly in the right position.
9. Heat the project with a heater tool. It doesn't matter if the color is dried before. Amplify! will puff up for sure and show a completely new dimension and haptic.