Royal hues of purple and green combine for a dramatic thank you card.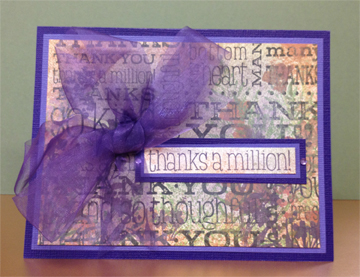 1. Stamp "Thanks You Are So Kind" with VersaFine Onyx Black on white cardstock. Allow to dry and then spray lightly with Eucalyptus Walnut Ink. Trim.
2. Ink the following stamps: "A Real Wild Poppy," "A Real Bluebonnet," "Lady Fern" and "Christmas Fern" using several colors on each stamp. Stamp each twice on the thank you background. Then use several colors to stipple additional colors: VersaMagic Pumpkin Spice, Magnolia Bud, Pink Grapefruit, Eggplant and Spring Pansy; Brilliance Crimson Copper, Pearlescent Rust, Pearlescent Poppy, Sunflower Yellow, Pearlescent Thyme and Pearlescent Lime.
3. Stamp "Thanks a Million" with VersaMagic Eggplant, then trim and layer to purple papers.
4. Trim background and layer to purple panel, then tie with sheer purple bow (May Arts) and then to purple card (A-2) - place "thanks a million" on card and add purple rhinestones on each side of the words.