Remember the days when we drove around with Thomas Guides in our cars? Big books of maps that not only helped you navigate the area but you had to learn how to navigate the book! Today the maps are likely outdated but quite useful for all sorts of projects.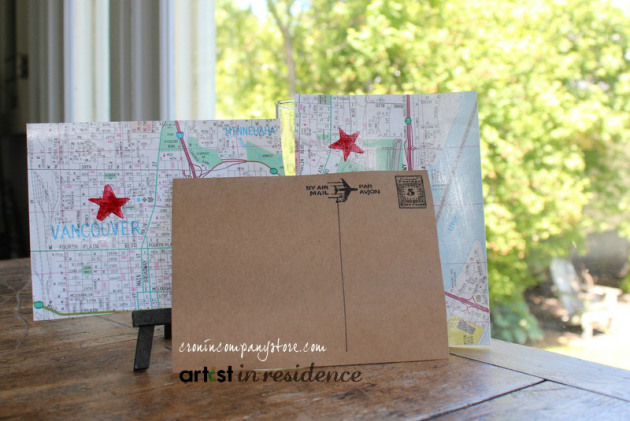 Directions:
Using an InkBlusher, adhere the map page to a piece of kraft paper by evenly spreading creative medium on the paper and overlaying the map, carefully smoothing out the map regularly to keep bubbles from forming. Once the map is adhered, cover the top of the map with creative medium shimmer and allow to dry completely.
Once dry, cut down the map to 6″ x 4.5″ centering the locations you want to highlight on the map.
Using a ruler, draw a vertical line about 2.5″ from the right side to separate the note area from the address area. Stamp post-like designs such as stamps and post-marks with StazOn Jet Black. Highlight destinations on the map side with a star using StazOn Black Cherry.
The postcards can be used from the road, as invitations or just for fun.