We don't have a name for "Tacky Tourists" in Germany. But it's a really good and funny description for these kind of travelers and I think, we should have a German word for them. For this card I created a new road sign. A couple of years ago, my BFF Dagmar and I visited the Gizeh Pyramides at Kairo, Agypt.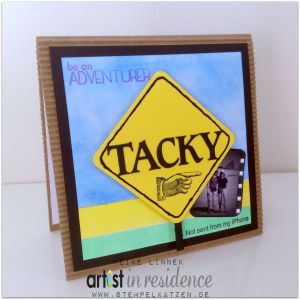 Directions:
1. Cut out a 3"x3" inch piece of yellow cardstock square and round the edges with a corner chomper. Draw a fine line with irresistible Pico Embellisher Tuxedo Black.
2. Die cut the letters and glue them onto the cardstock. Fussy cut a small stripe of black cardstock, glue it under the sign to create a pylon.
3. Cut out a 5" x 5" inch piece of white cardstock. Mask about ¾ of it with masking tape and sponge the area with Electric Blue from Radiant Neon 4 Cool ink pads.
4. Tape the next and smaller section and sponge it with Electric Yellow from Radiant Neon 4 Warm ink pads.
5. Mask the last and smallest section and sponge it in Electric Green.
6. Sponge the stamp in different Neon Colors and stamp immediately onto the cardstock.
7. Stamp the other stamps with Memento Ink Pad in Tuxedo Black.
8. Cut a 12" x 6" inch base card from corrugated cardboard and fold it in half. Cut a 5 ½" x 5 ½" inch mat from black cardstock and adhere the layers.