When we were asked to do a project themed "50 States", I wanted to show all them in a different way. The big canvas has room for every single State, but doesn't presents them in a usual map view. The states are listened in alphabetical order. The biggest challenge was not to get deranged with over 400 die cut characters.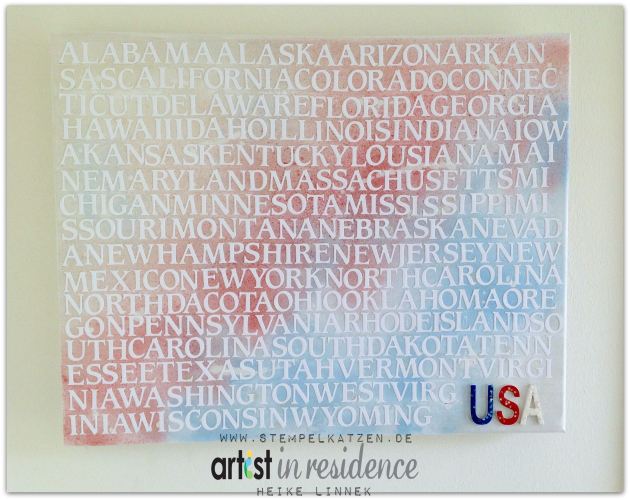 1. Dilute some drops All Purpose with Ink in Champagne Mist Potion No. 9 Blending Solution for reaching a lighter, more liquid color. Shake the spritzer bottle well. Repeat this with API Blue Sky and Poppy Red.
2. Spritz the colors onto canvas. Blend them with an Ink Dropper. For the finish, use a brush to set some highlights with undiluted All Purpose Ink in Cotton White.
3. Now it's time to be diligent. Count the letters of the words and notice how much how many are needed. Die cut the characters from glossy cardstock and collate them.
4. Cover the chipboard characters with StazOn Studio Glaze in Blue Hawaii, St. Valentine and Cotton White. Sprinkle them with some glitter stars and let dry.
5. Arrange the complete text without glue onto canvas for testing the layout.
6. Apply Creative Medium Clear onto the first one or two rows and replace the characters one by one.
7. Finish with the chipboards.