Do you have some old T-Shirts in the closet that you never wear because they are just too plain? Dress them up with a stencil and an ink pad. The first swipe of ink always make me nervous (it is a $3 t-shirt after all), but then we you see your shirt coming to life, it is super fun!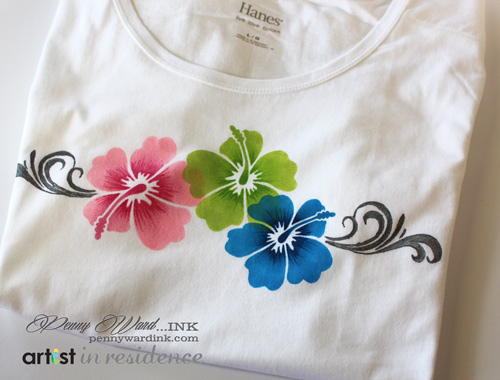 Directions:
1. Prepare your shirt by sliding a piece of cardboard (even a cereal box will do) between the front and back.
2. Spray backside of stencil with temporary adhesive (blot adhesive off on a scrap of paper a couple of times). Place stencil in desired position on shirt. Using a Sponge Dauber, apply Memento Luxe ink until you achieve desired coverage. Continue this same step for each flower.
3. With temporary adhesive on "flourish" stencil, position as desired. Apply Black Pearl All Purpose Ink with a paint brush. (Use a light hand as you don't want to move the fabric underneath the stencil).
4. When shirt is completely dry, add shading to flowers with a coordinating Fabrico marker. Let dry.
5. Heat set design.