Is your husband or son still thinking your hobby is just for women? I've made a men's shirt, perfect for summer time, that will convince them otherwise! Since Martin (my husband) has seen it he's attended to my colors, stamps and stencils in a whole new way. This shirt is a great way to involve everyone in your crafting endevours.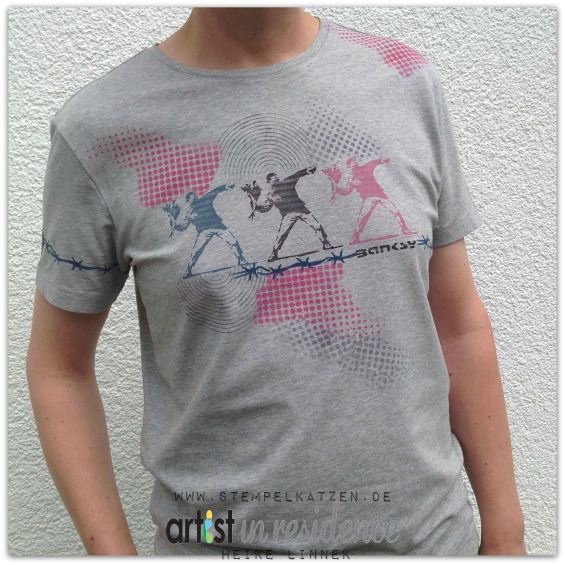 Directions:
1. Wash, dry and iron the shirt. Prepare cardstock or newspaper to place it between the layers while working to prevent the ink from bleeding on the other side of the shirt.
2. Use Memento Luxe Ink Pads. Note: They're very juicy so you will want to ink the stamp carefully. Stamp slowly and without too much pressure to go get the best results. Slow stamping ensures the fabric better absorbs the colors . First stamp the main motive three times in a row, using Nautical Blue, Tuxedo Black and Rose Bud.
3. Stencil some areas above and under the main motive and at one shoulder. Sponge with an Ink Dauber and Memento Luxe in Rose Bud and Grey Flanel. You're going to want to take your time with this unlike normal cardstock projects.
4. Stamp the slogan at the sleeve. As needed, little improvements can be achieved with a Fabrico Marker in the same color.

5. Go on stamping and stenciling whatever comes to mind.
6. Let everything dry completely. Carefully set the color by ironing without steam between a pressing cloth or a newspaper.