Father's Day is celebrated around the world -not always at the same time, here in the Southern hemisphere we celebrate in September. I never miss an opportunity to create a card celebrating the dads. I always love texture on a masculine card and it is so easy to add as you will see from my tutorial.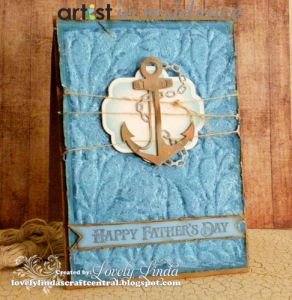 Directions
1. Emboss blue cardstock using Dewdrop Delight and apply Creative Medium Iridescent in Blue using an ink blusher
2. After letting it dry, sponge on Teal Zeal over embossed pattern using Sponge Dauber
3. Cut/emboss Labels Forty-Four using white cardstock
4. Use the Die as a Stencil, sponging the inside lines using Teal Zeal and a Sponge Dauber
5. Pop Up into the Dew Drop Delight using Foam Tape
6. Cut/emboss one (1) Anchors Away using brown cardstock and sponge the Anchor using Delicata in Golden Glitz and Copper Ink
7. Add Delicata in Shimmery Silver to the Anchor chain, then wrap twine around the embossed card front, as shown in the photo
8. Pop the Anchors Away onto the Labels Forty Four using Foam Tape
9. Stamp sentiment onto blue cardstock using Espresso Truffle Ink then trim, adding dovetail at each end
10 Layer onto brown cardstock using double sided tape and dhere to the card using foam tape.
11. Adhere card front to precut card base (5 1/2" x 7 1/2") using foam tape for dimension