Happy 4th Card
Share your patriotism with this simple card.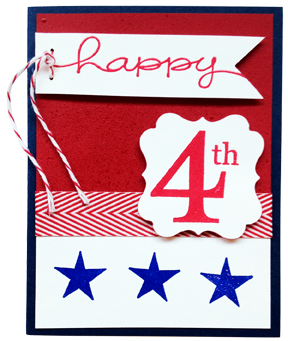 Dimensions: finished card size 4-1/4" x 5-1/2" (blue cardstock). Cut 1 piece of white cardstock to 1-3/4" x 3-7/8" and cut 1 piece of red cardstock to 3-1/2" x 3-7/8".

Spray Goosebumps onto red cardstock piece; allow to dry completely.

Stamp 3 stars with VersaColor Indigo onto the white cardstock piece. Emboss stars with Clear Embossing Powder.

Adhere white cardstock onto the red cardstock piece at the bottom, lining up edges.

Cut 4-1/4" length of ribbon and adhere on the backside over the seam where the red and white cardstock pieces meet.

Stamp "happy" and "4th" onto white cardstock with VersaColor in Cardinal. Emboss both with Clear Embossing Powder.

Use die cut to cut frame around "4th".

Trim around "happy" to create a strip approximately one inch high. Create a pennant by making a dove-tail cut at the end of this piece after the "y".

Punch 2 holes before the "h" in "happy". String 6 inches of baker's twine through the holes then tie into a double knot.

Adhere background piece onto the blue card base. Adhere "happy" pennant and framed "4th" onto the card.