Graduation is such a special day as they walk across the stage to receive their diplomas. It is the end of childhood and a beginning into adulthood. Commemorate your graduate with a specially made card to recognize their achievement. Simple to make, just change the colors to coincide with your school theme.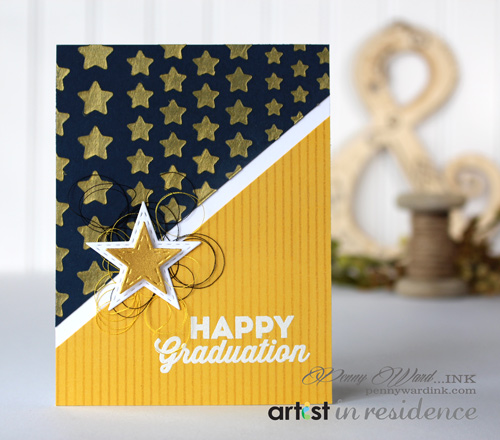 Directions:
1. Cut Navy Blue cardstock 4.25 x 5.5 inches. Tape stencil over panel adding Creative Medium Gold with a palette knife. Let dry.
2. Cut Yellow cardstock 4.25 x 5.5 inches. Stamp with Pinstripe using Delicata Golden Glitz. Let dry.
3. Make a card base of White cardstock by trimming to 4.25 x 11 inches, fold in half. Trim stamped and embossed panels at an angle. Adhere to white card base leaving a tiny section of white showing across the middle.
4. Stamp sentiment on lower right side of card front with Versamark ink. Heat emboss with White embossing powder.
5. Die cut a small and large Stitched star. Ink small star with Delicata Golden Glitz, let dry.
6. Using about 20 inches of both Navy and Yellow thread, swirl onto card. Adhere large white star over the thread. Attach small gold star with foam adhesive.