Faux Gelli Plate Prints are a great way to create unique and fun cards and gift bags to have on hand for any occasion. The Craft Mat and Memento Luxe inkers make creating faux Gelli prints so quick and easy you'll have a stack of beautiful prints in no time at all.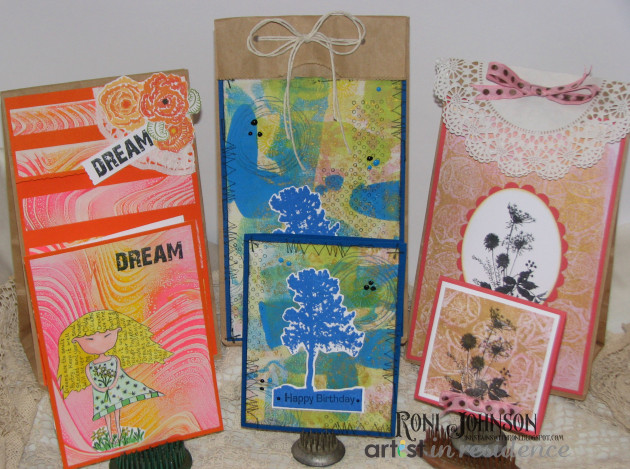 Directions:
1. Apply a small amount of ink onto the craft mat. Use a brayer to roll ink out in thin layer.
2. Play a little at this point to create various patterns and designs in the ink. Use a Brushstix to draw in the ink, stamp into the ink. Use stencils, found objects, lace, fabric, etc and press them into the ink, etc. Just have fun!
3. Make a print by placing a sheet of paper over the ink. Gently rub the back of the paper to ensure a complete print. Peel the paper off of the ink/craft mat.
4. Continue to add one or more layers to each print as desired.
These are just a few of the prints I made using a combination of Memento Luxe, Delicata and Radiant Neon inkers on the Craft Mat.
Here are just a few examples of what can be made using these prints.