Do you want to sample the technique done with a Gelli Plate but don't have the room or the budget for one more piece of equipment? Why not try this "faux" Gelli Plate technique done with your Imagine Crafts Craft Mat? Simple, fun and amazing results are in store for you.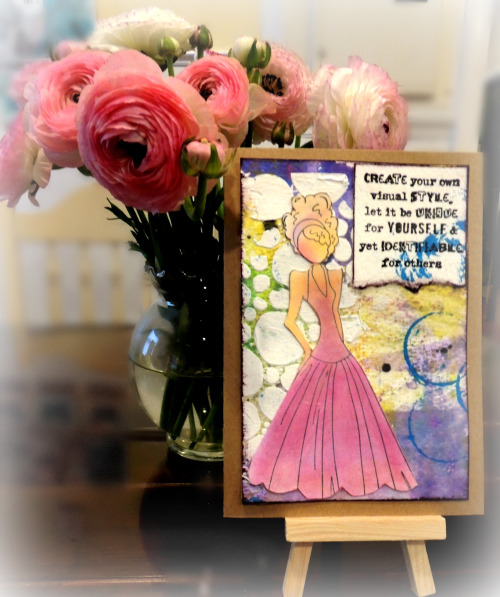 Directions:
1. Using Radiant Neon inkers, randomly apply ink to your Craft Mat directly from the bottles. A little goes a long way so you only need a few drops. Here you can see the Radiant Neon inks in Electric Blue, Electric Purple and Electric Pink. Spray some water over the drops and use a brayer to blend them together.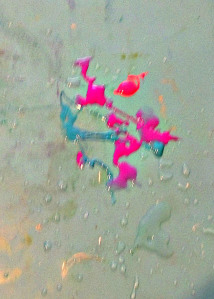 2. Take a piece of watercolor paper and lay on top of the brayered inks, smooth the paper over the ink with your hands and move that paper around to pick up as much color as possible. Let the ink dry completely before moving forward.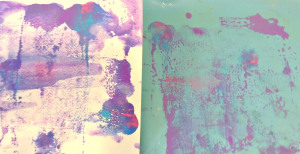 3. Place contrasting colors on your Craft Mat and repeat the previous step. In this step you can see Radiant Neon inks in Electric Green and Electric Yellow.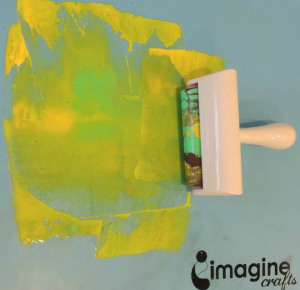 4. To unify the paper with all these wonderful colors use some white gesso, your favorite stencils and when the gesso is dry use bottle caps to make circles across the paper in Electric Blue. Finish by sprinkling a StazOn inker, in Jet Black, over the page.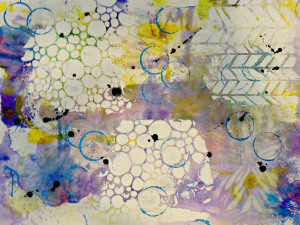 5. Now you have a terrific original master board that can be used for mixed media pieces or card making like this. Cut the page into 6" by 4" panels, decorate them with stamps, adhere the panel to a kraft colored A7 size card and you have a unique card for a very special friend.
6. To decorate her dress add StazOn Studio Glaze directly from the bottle to her headband and dress.