Cameo Memo Pad for Planners - Great New Year's Gift
Create a cameo-embellished notepad and holder.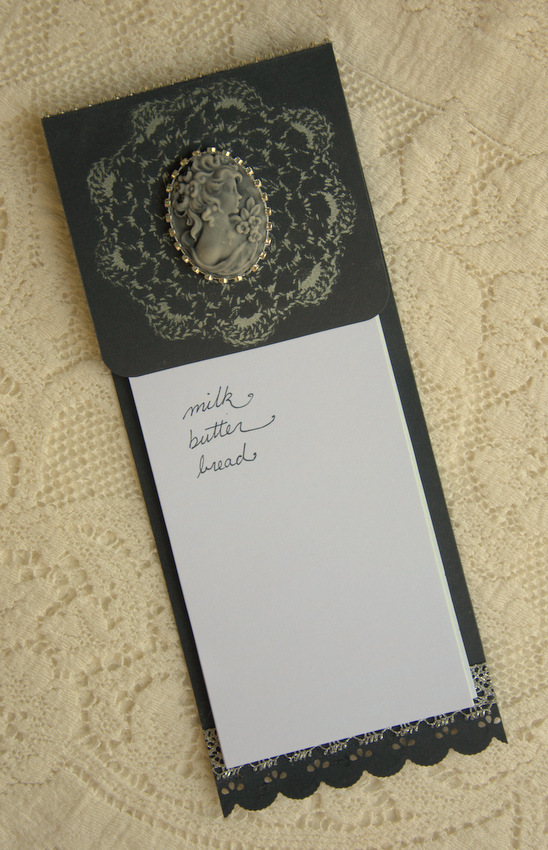 Create notepad:
Stack 5 sheets of white paper, cutting through all, cut three 3 ¼" X 8 ½" strips. Repeat (30 strips total). Stack neatly. Place a rubber band near one end to hold the stack together. Using Creative Medium, generously paint cut edge closest to rubber band. This will adhere the pages together. Set aside to dry.

Cut notepad holder: Cut black card stock 3 ¾" X 9" (front), 3 ¾" X 8 ½" (back), 3" X 1½" (tab), 3 ¾ X 4 ¾" (flap).

Create flap: Score flap parallel to short side 1" and 1 1/4" from edge. Fold both score lines (the front of the flap is the largest area, the top is the ¼" fold, and the back is the 1" area). Cut front flap corners with corner punch.

Cut Tack 'N Peel in half to fit doily, peel off backing and apply to clear acrylic block. Peel off backing on other side and adhere doily to sticky surface. Generously ink doily with Encore. Practice stamping on scrap paper to see if image is clear, add more ink if needed to get a good impression. Ink and stamp onto center of flap front. To clean ink off of Tack 'N Peel use Staz-On Cleaner (Dauber Top).
Assemble notepad holder:
With decorative edge punch, punch one short end of notepad holder front (3 ¾" X 9"). Use white marker to draw a line on opposite short end parallel to edge (this is the top of the pocket, the white line aids in notepad placement since it's hard to see the paper edge black on black).

Glue notepad holder back (3 ¾" X 8 ½") to back of flap placing short end along the flap's 1" score line.

Glue notepad holder front to back with a small bead of glue along both edges and placing top (white marker edge) ½" from the 1" score line on the inside of the flap. This creates the pocket that holds the notepad, so if the glue bead is too wide the space will be too small to slide the notepad in easily.

Glue tab (3" X ½") to center top back of notepad. When dry, slide tab into pocket of notepad holder.
Decorate:
Glue silver lace to bottom of notepad holder so that the lace shows a little below the bottom of the notepad.

Cut diamond wrap to fit around perimeter of cameo, glue in place. Glue cameo to center of doily stamp image.

Cut diamond wrap to fit top edge of notepad holder, glue in place.