Stars and Stripes for the Fourth
This CAS patriotic card is the perfect greeting to send for the 4th of July.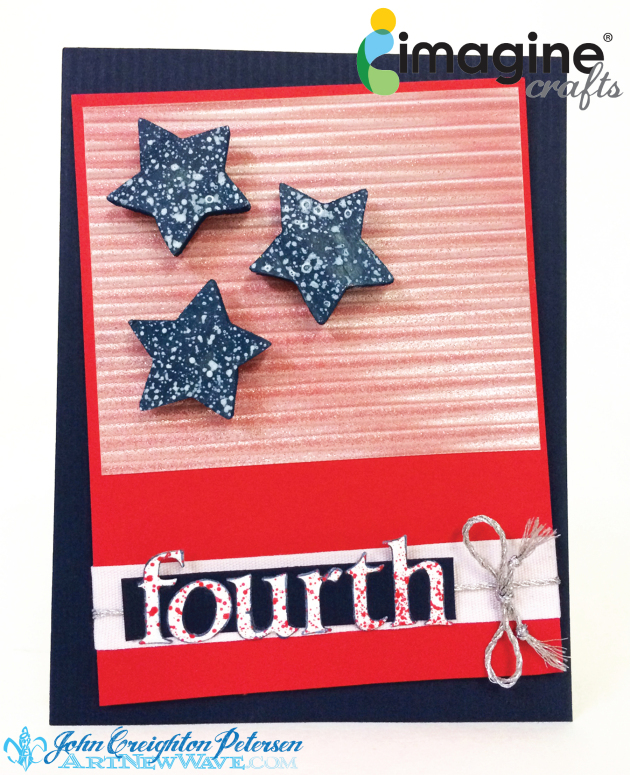 Cut/score navy cardstock to final card size of 4¼˝ x 5½˝.
Cut red cardstock to 4˝ x 5¼˝.
Cut Vertigo Tilted to 3˝ x 3½˝ with the striped pattern running horizontally.
Adhere cut Vertigo piece to red layering piece. Note: to keep the glue from showing, use a spray adhesive or pass through a Xyron sticker maker (or similar).
Add white ribbon to the red layer, securing the ribbon on the backside of the card.
Tie silver cording into a bow on top of the white ribbon.
Secure layering piece to the navy card base with dimensional adhesive at a slight angle.
Lightly spray a piece of white cardstock with irRESISTible Lady Bug; allow to dry completely.
Die cut "fourth" from the sprayed white cardstock and edge letters with Memento Luxe Nautical Blue using a Fantastix.
Cut a small piece of navy cardstock and use as a layering piece between the ribbon and letters.
Ink Monterey Pine Stars with Memento Luxe Nautical Blue with a Fantastix, heat set to dry.
Spray stars with irRESISTible Wedding Dress; allow to dry completely.
With dimensional adhesive, adhere stars on top of the Vertigo.