Create a Vintage Distressed Easter Egg Card with Walnut Ink
Use Dew Drop pads as both your stamp and your ink for an Easter-themed card.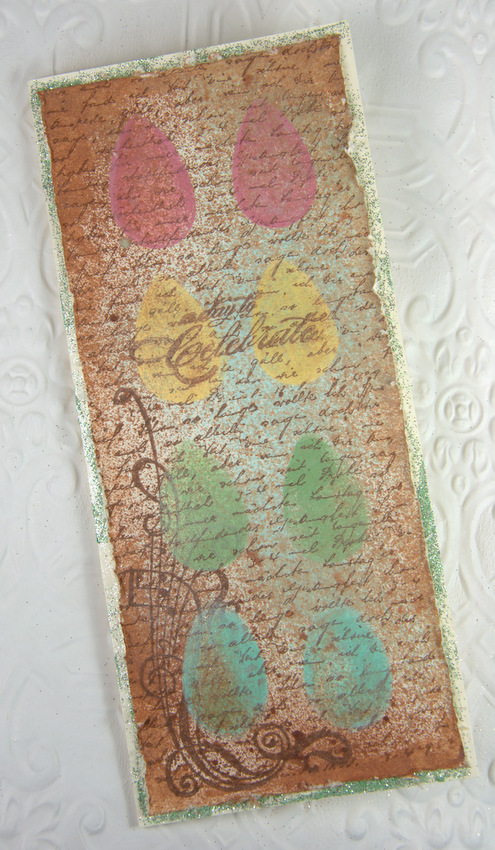 Cut card stock 3 ½" X 8 ¼". With VersaFine in Vintage Sepia, stamp Butterfly Symphony flourish in left lower corner. Spray with Walnut Ink. While wet, rub edges smearing ink. Spray center only with Summer Sky Fireworks. Dry.

Stamp each twice, Pink Petunia, Thatched Straw, Aloe Vera, and Aquatic Splash Dew Drops directly onto sprayed paper allowing the shape of the ink pad to create a dew drop (egg-shaped) ink image. Dry.

With VersaFine Vintage Sepia ink, stamp Background Script over entire paper and then Gratitude sentiment, "A Day to Celebrate" on top of second set of eggs (Thatched Straw). Distress edges with blade of scissors.

Cut and fold 3 ¾" X 8 ½" vertical card with left side fold. Using Shimmer Creative Medium, paint along edges of card front and randomly sprinkle glitter over medium. Some areas will be heavy with glitter and some areas will be light-none. Paint Shimmer Creative Medium over each egg. Dry.

Glue stamped & sprayed paper onto center Front of glittered card.