Hearts Aflutter Picture Frame
Shrink plastic stamped with StazOn makes great embellishments for a picture frame.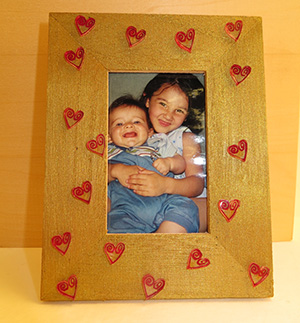 Stamp the heart with StazOn in Blazing Red onto the shrink plastic multiple times. Let dry.

Cut out each heart from the shrink plastic.

Shrink the plastic by baking as directed or using a heat tool.

Cover the frame with StazOn in Metallic Gold applied directly from the pad. Let dry.

Glue the hearts onto the wooden frame with red-line tape or other adhesive.